Use code "YESIAM" for $100 off registration until 12/7 12pm ET! 
Woman,
Are you dancing through life?
Or muscling through it? 
Are you creating your dreams and desires with pleasure?
Or through grit and a continual endless PUSH?

Are you ready to lay down your exhaustion and surrender to the power of Ecstasy in creation and manifestation? 

I invite you to join me for an intimate journey...
Part movement, part meditation, fully orgasmic and consciousness raising 
Own Your Feminine Design,
Embody Your Ecstasy and
Birth Your Dreams and Desires With PLEASURE! 

Living as a woman in a world defined by masculine ways of being is exhausting. Figuring out how to honor your body while working, caring for your loved ones, creating your life in alignment with your soul's calling....  can feel downright impossible.
As the feminine rises so does our ownership of our bodies!

Learning about your menstrual cycle and how your energy flows through the phases is GREAT, but it is missing a very key component- CREATION, from conception through pregnancy, labor and birth.
As we flow through life, we are creating all the time- babies, relationships, projects, jobs, ourselves… over and over and over again. 
Whether you've never given birth, already have, want to or don't –  birth is the blueprint for how we create, gestate, and realize any huge desires as women.
Pregnancy and BIRTH are a feminine process-
perhaps THE feminine process and as much as the patriarchy tries to co-opt, control, manage and undermine it, it can never be anything other than FEMININE.
Patterns of muscling through, numbing out, or awaiting a savior as we birth and rebirth ourselves, are signs that we are out of alignment, that we are trying to conform to systems that weren't created for us, that do not honor our feminine design. 
The keys to transforming physical childbirth from a traumatic experience to and Ecstatic experience are one and the same as the keys to transforming all that grit, exhaustion, and struggle in creating your dreams into ease, FLOW, nourishment and pleasure.
The Ecstatic Goddess 
offers us the underlying blueprint to the Feminine FLOW of Creation™  

Take a journey back to your body,
Locating your ECSTATIC pleasure,
Amplifying it,
So That You Can Achieve YOUR DEEPEST DESIRES With Ease and JOY! 
"Sheila, it is you and your contemporaries who have caught the torch that I have been holding high since I was 22!!!

It's nice to rest my arm a bit now – and see the torch shining even brighter!!!"
Dr. Christiane Northrup
Women's Wellness Advocate, Best Selling Author, OB/GYN
"The voice of Sheila Kamara Hay is both wanted and needed in the world of pregnancy, birth, and motherhood. She is helping women to redefine the birth experience and make birth into their own powerful evolution. I love her work and her commitment to women!"
Regena Thomashauer
Founder of Mama Gena's School of Womanly Arts NYT best selling author of Pussy, a Reclamation
"Wise, joyful, and sensuous are the words that flow as I think of Sheila sharing her writing and wisdom on Ecstatic- Birth! I love her insights as she guides us to reconnect with our feminine power, knowledge and intuition."
Debra Pascali-Bonaro
Director and Co Author – Orgasmic Birth, Advanced Doula Trainer, Chair of International Mother/ Baby Childbirth Initiative
This is for you if you are:
Ready to manifest your huge dreams and desires through your feminine power
Done with struggle, "no pain, no gain" mentality, & ready to consciously source from your joy
A pioneer, eager to dive into the uncharted waters of pleasure and birth, so that you can stand in your full feminine leadership
Committed to deepening your sacred connection to your body and sexuality
Ready to breakthrough and stand as a wayshower for the emergence of the divine feminine on the planet
Curriculum
Discover how to use the Feminine FLOW of Creation to fulfill your soul's deepest dreams and desires!
I reveal the journey of creation from desire and conception through pregnancy, labor and delivery so that you can understand where you arelocate yourself and know exactly which practices can support your flow.  
We dive deep into birthing all your creations with pleasure.
Each month we dissect one stage in the Feminine FLOW of Creation and identify and diffuse common obstacles.
We learn how to locate ourselves and practice tools of pleasure to support you through moments of intensity unique to each stage.
Our exploration will always bring you back to the body, so you access your ultimate freedom and ecstasy within!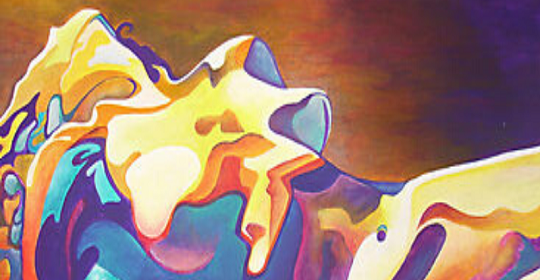 DESIRE.
CONCEPTION...
Session #1: We identify and tease out your most destructive patterns and recreate your fertility anew, ENJOYING and embracing your YES to whatever your heart and soul desires to create.
NURTURE: Breath VIBRANCE into your most sacred creations
Session #2 We explore how to gestate and breathe LIFE into your metaphorical babies from the earliest days of conception: Gently, Lovingly, Patiently and always with PLEASURE.


FLOW: Expansion, contraction, expansion..
Session #3: We explore the flow of labor and identify how to dance with contractive moments rather than run from them or numb, leaning on pleasure to consciously flow through to the expansion that is awaiting you on the other side.
INTENSITY: Transition
Session #4: We focus on the intensity of "I can't do this anymore", the trademark of the transition moment. We create structures of support to help you flow to the other side with ease and pleasure because you are, SO CLOSE.
FOCUS: The Urge to PUSH 
Session #5: We explore the all consuming urge to PUSH. All your energy, all your attention is focused on this singular tack. We build the connection to your feeling space so you can ride this wave efficiently, effectively, and with pleasure.
FIRE: Climactic Intensity
Session #6: We magnify turn on as we approach this crowning moment, the "Ring of FIRE". You fuel all your efforts from pleasure to experience this climax with a full bodied, ecstatic "OHhhhhhhh YES!" (rather than "ouch!").

GIFTS: Nourishing the New You
Session 7: We celebrate all the gifts you have received in your journey calling forth your metaphorical babies, honoring your own "rebirth" in the process as you expand to become who you need to be to birth your babies.
THRIVE: The 4th Trimester
Session 8: Your work is not done! Will your creation survive? Or THRIVE? We revel in replenishing ourselves, our bodies, and nurturing that fertile soil from which your next desires will take root and blossom!
What to expect: Radical transformation in your relationship to your body and feminine power!
Ecstatic Goddess VIP
This level includes everything PLUS personalized training: 
Three Private 60 Minute Transformational Coaching Sessions!
Receive a highly personalized training plan to Unleash your Ecstatic Flow,
Identify and dissolve blocks that are holding you back,
Expand the PLEASURE in your body to
Nourish, Vitalize and Fuel the Realization of Your Dreams!

During our private sessions, the focus is wholly on what YOU are birthing!! 
"The Ecstatic Goddess program with Sheila was the most tender and loving experience"
"The Ecstatic Goddess program with Sheila was the most tender and loving experience I have ever participated in.

The body  practices made me able to connect to my body in a loving way, to feel my body, to nurture it and most of all to be aware of it.  I feel like I'm finally able to see my body as part of me, having a companion that I can trust and rely on.

The love and tenderness Sheila has for this work is palbable. She shares everything so freely and openly which is very refreshing and encouraging and long long needed for women in this world. She offers ongoing support through emails and has great insights and advice which contributes to this program being a  very holistic experience.

I highly recommend this program to every woman who wants to get to know herself better. I couldn't be more happy about it!  Thank you so much!  Sheila your work is great and I'm glad it is out there for all women."

-Bernadette K.  

There has never been a time like this.
Women are rising--
Reclaiming our connection to our bodies, our sexuality, our fierce feminine power.
Creation and birth are essential pieces of this reclamation!
Whether you are bringing forth a baby or your soul's deepest desires, the journey is the same: The Feminine Cycle of CREATION.
It is time to harness your sensual creative power and feel your VIBRANCE!
Birth your creations like WOMEN!
Frequently asked questions
Here are a few answers to our most common questions
---
The Ecstatic Goddess is scheduled to begin on January 11, 2022 and meet weekly on Tuesdays at 12pm ET for 8 sessions. In addition there will be live guided body practices Fridays at 9:30am ET.  Everything is recorded, so you can enjoy the class at your pace and at the times that work for you!! 
The most important thing is that you schedule and give yourself the full 90 minutes each week to receive the content. All classes are working sessions meaning, in addition to receiving the content, you will be actively engaging with it and practicing embodiment.
Pregnant women can benefit from this program, but Ecstatic Goddess is actually for all women who want to birth their dreams and desires with PLEASURE. We use the wisdom of pregnancy and birth to bring us back in connection with our body and our feminine design. Every woman will be rebirthed in this process!
Yes! Thank you for asking. This is a unique opportunity to personalized support, practices, and integration. In addition to the Ecstatic Goddess Journey, you receive 3 private 1 hour sessions. While we flow through each of the stages in our weekly sessions, this 1:1 time is to locate where you are in your journey and support you in flowing through those places that you feel stuck.
Yes! You have a choice of paying in full or choosing a 3 or 4 part payment plan. If you feel the YES in your body, but are challenged by the financials, consider for a moment: What is the cost of NOT doing the program? What if you are to continue on the path you are now, fully immersed in the pain game of life and creation? What is the cost to your body? To your joy and vibrance? You are worth the investment.
I recommend you schedule 90 minutes a week for this program, whether or not you attend live. The weekly sessions are mind, body and soul experiences that you will want to be fully present for without distractions. In addition you will be doing daily body practices which are around 10 minutes in length.
Yes, you have a 7-day money back guarantee. If you participate in the first session and feel it is not a good fit for you, you will receive a prompt and courteous refund.
"Ecstatic Birthing was truly profound for me. It explained to me how it is that my life is magical. It explained to me clearly how I am thinking and behaving. It explained to me stages of birthing and what each one represents. It explained to me the tools I am already using and the power of them. It explained to me how powerful I am."

-Anna D

" I've never given birth to a baby (yet), but quickly realized I was giving birth to my desires (big and small). The phases she described are so real and I felt relieved to see that I was not "crazy" in my process. All of it was normal and natural. Birthing babies or your deepest desires, you want to hear what Sheila has to say."

-Ninna A

You deserve to create your dreams and live your life with JOY and VIBRANCE!
If you are a full bodied YES to reclaiming your feminine power and PLEASURE,  grab your spot in this training!
I'll be giving you everything I've got. Are you ready to receive it?
In love and PLEASURE,